2007-2013
Web: http://webmaps.njmeadowlands.gov/municipal/
Abstract
The Meadowlands District Municipal Map encompasses 8 years of data collected by the Meadowlands Environmental Research Institute's GIS team. The web mapping application serves as an easy to use centralized location for both present and historical geographic information about 14 municipalities that make up the New Jersey Meadowlands District. The application is a one-stop-shop for any government official in need of property information for the New Jersey Meadowlands.
Municipal officials using the application can easily discover detailed geographic information to leverage various responsibilities such as variance notifications (a 200′ radial construction notification), flooding mitigation, zoning and land use analysis, and property owner identification. Geographic data displayed within the application includes historical aerial imagery (1930-2010), environmental coverages, infrastructure & utilities, political & topographic layers, MERI's high-resolution flood prediction model, and much more state and NJMC maintained data.
Tools
The application features several tools tailored to the needs of the municipal officials using the application. Each tool has been designed with ease of use in mind and much of the processing done by each tool is calculated server side to keep the application fast and responsive.
Searching
Often a town official will either have the address or the owner information for a property they are searching for. The Municipal Map's search tool was designed to allow users to enter in as much or as little information as they have and then accurately guess at which property they are looking for. Queries done on the server try to determine the property of interest by analyzing user input and comparing it against popular terms, historical property addresses, and alternative spellings. This search tool greatly speeds up the amount of time it takes to find a property and helps eliminate a lot of the guess work involved with locating an area of interest.
Property Buffering
The most popular feature of the Municipal Map is its ability to accurately select all properties that fall within a given radius of a selected property boundary. Often town officials need to inform property owners of construction occurring within 200ft of their property. Before the Municipal Map, traditional owner look up for such notifications took construction officials days, now this can easily be done with a few clicks of the mouse. The buffer tool creates a geographic selection on the map and returns the ownership records for all properties that fall within its selection. Once a user selects to run a buffer at a given distance the application runs a server-side cartographic process to extend the selected property's geometry. The new geometry is then displayed on the map and used to pull data from all properties it touches. Results are displayed as a downloadable Microsoft Excel spreadsheet containing information for each property. This tool has saved hundreds of man hours and received high praise from all municipalities within the Meadowlands District.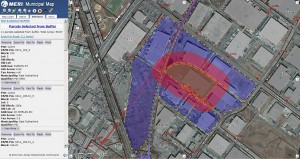 Credits
New Jersey Meadowlands Commission GIS Staff
Application Development: Brian Kennedy
GIS Data Management: Brian Kennedy, Saleh Kojak, Adam Osborn, Stephanie Bosits
Accolades
NorthJersey.com: Meadowlands towns take advantage of hi-tech mapping
http://www.northjersey.com/news/135980728_Meadowlands_towns_sharing_mapping_update.html
WMBC: Meadowlands Municipal Map & Emergency Response Information System
View segment here: http://www.youtube.com/watch?v=CYGanmAOyZY
Meadowlands Economic Growth and Sustainability Blog: Interactive NJMC Municipal Map
http://njmc.wordpress.com/2009/12/29/njmcmunicipalmap/